21 Awesome Movies: 6 Infinity Stones: An Epic Badass Team: 1 Cruel Villain: The Final Battle- Avengers: EndGame.
But before all that, let's recap how all of these movies connect with each other.
In the Beginning:
Six singularities (infinity stones) existed: Space, Mind, Reality, Power, Time, Soul. All the interests of the SuperVillains revolve around these.
Phase ZERO:
This  Good GOD from ASGARD Planet:
Fights for Tesseract/Space Stone and hides it on Earth.
PHASE ONE: THE ORIGIN STORIES
ON EARTH
This Good Guy:
Turns This Too Good Guy: 🙂
into This Great Guy: 😀
Sadly, Our Captain lands up on Ice(literally) after going on a suicide mission.
Which Brings us to:
Enter THIS Confused GAL: 
In a bit of an Identity Situation in the Universe and ends up becoming
THIS COOL CHICK: 😀
and then she flies off into the Universe to fight crazy guys.
but BTW, we also get this cute little Good CAT:
Moving on, Years Later This Genius Guy (Stark's Son): 🙂
Lands up in a prison here: 🙁
And Becomes This AWESOME Guy: 😀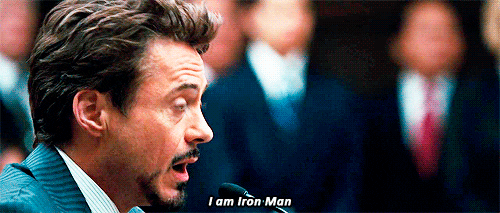 And he goes on to fight his foes, super foes.
He's quite busy, so Meanwhile,
This Super-Genius Good Guy 🙂
Lands up in a shitty Experiment and Becomes 🙁
This Super Genius Super Angry Still Good GREEN Guy: 😀 
BTW in the Universe:
This Handsome Guy/God(Odin's Son): 🙂
Is busy Fighting with:
Incoming, THIS BADDD GUY asks LOKI THE BROTHER to Get our Blue thingy: 🙁 🙁
And LOKI Flies to EARTH to SEARCH for THIS: 🙁
SO BACK ON EARTH
This Good Guy on HIGH ALERT Situation:
Wakes Up This Great Guy from Ice: 😀
And Sends THIS Great Badass Fighter GAL: 😀
everywhere to collect our Band of Brothers with: 😀
And form our Band Of Good/Great/Badass People: 😀
Finally, after rip-smash-boom, The Tesseract (BLUE STONE) is taken to Asgard by this Guy: 🙂
PHASE TWO: SEQUELS AND NEW GUYS
ON EARTH:
All the Good Guys are busy Fighting Enemies of their own:
In the Universe:
And another New Band Is up for Inter-Galactic Adventures and Pop-Songs feel:
And we get This cute little Gooood Guy: 🙂
So, on EARTH:
Tony Stark's experiment gone-wrong; leads for the Band to deal with This BAD-Guy: 🙁
And They Create This New Good Guy: 😀
And these Bad Twins turned Good join The Band: 😀
Meanwhile THIS COOL GUY: 🙂
Lands in a Prison, is aided by a Super Genius someone, and Becomes This tiny AWESOME Guy: 😀
PHASE THREE: MORE NEW GUYS AND FIGHTS 
This DOUCHE Guy plots and divides our Band in two:  🙁 🙁
A bigtime fallout happens Between Mr Stark and Captain Rogers 🙁 🙁
and some new Good Guys Join the Band 😀 😀
Then the New guys Get their Solo Movies 😀 😀
ENTER
THIS SLICK RICH GENIUS DOCTOR GUY: 🙂
who Drives/dives into an accident 🙁 
then Meets with A BALD CHICK AND Turns into Wizard/Strange Great GUY: 😀
So Dr STRANGE  helps THOR  find his DAD and
THOR GOES BACK AND fights His BAD Sister this time
His planet is destroyed and he carries the remaining Asgardians to Earth in a spaceship (coz Asgard is a PEOPLE)
Mid-voyage their spaceship is destroyed by THIS BADD-WORSE-WORST GUY: :'( 
which leads to the Most epic cross-over of all the Bands in a Fight to stop him from taking those SIX STONES.
AND WE ALL KNOW WHAT HAPPENED THEN 🙁
Yep, he takes all SIX and THEN: :'( :'(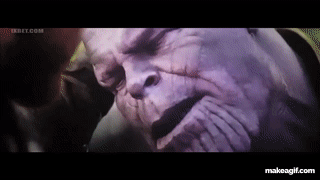 While we wait for the ENDGAME, please let me know how you feel about the post in the comments below